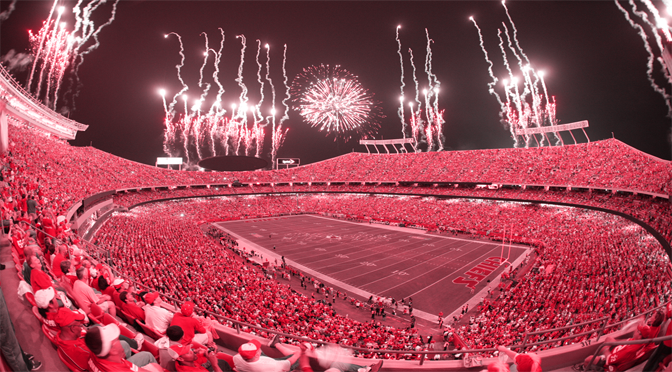 As you've heard me say on "Between The Lines" a few times, it feels like a dark cloud hanging over the AFC West in the shape of Peyton Manning has parted. A beam of red and yellow sunshine comes through on Alex Smith and the Kansas City Chiefs.
When Manning was signed in Denver, the division immediately belonged to the Broncos. Peyton Manning wins divisions; he's done that his whole career. He's made it a priority to beat teams in the AFC South and West for two decades.
But now, Manning is gone. Denver replaced him with Mark Sanchez and moves forward with a defense missing a few pieces from last year's Super Bowl champion defense. The time is now for Kansas City to strike, win the division and play a home playoff game for the first time since 2010. They have the weapons on both sides of the ball to do it, and they have a QB who knows how to win games.
Alex Smith is a regular guest on BTL. After talking with him yesterday, he seems more confident than ever in his ability as a quarterback. Him and Andy Reid really have a good thing going, and a chance at a Super Bowl ring is running down with Smith going into the twelfth season in his career. He was very humble about it, recognizing a great opportunity. Football doesn't last forever.
Smith has been on a lot of good teams. While hard to compare this team to San Francisco teams, or even last year's team, he feels this year's squad is as good as any.
Another feel-good story for Alex Smith is the trust Andy Reid has in him. Reid went to Alex Smith and asked him what he thought about recent Chiefs quarterback signing Nick Foles after the Rams released Foles. Not many players get to the point in their career where the head coach comes to them asking about free agents. The plan for Nick Foles is still a little unclear, but there is something brewing there. We will have to wait and see what Chiefs GM John Dorsey and Andy Reid have in mind.
This is the first time in a while I can say I'm not 100 percent certain there's a team in the AFC better than the Chiefs. Yeah, the Patriots are always up there and beat KC in the playoffs last year, but I'm not sure the Pats would win if the two teams lined up week one this season. A lot of people are going to keep an interested eye on the Colts after Andrew Luck signed his big deal, but I'm not sure they are better. Cincinnati could end up with a better record, but I would put money on the Chiefs winning a playoff game over the Bengals, who are disastrous in the playoffs.
With all the different personalities in the locker room and front office, the Chiefs don't seem to have the ego a lot of organizations have. Robert Kraft and Bill Belichick have incredible, widely-publicized egos. Jerry Jones and all the coaches he has hired and fired showed displays of ego that affected the team. Since Carl Peterson, the Chiefs haven't had a clash with owners, GMs or head coaches.
Andy Reid, John Dorsey, Clark Hunt, and Alex Smith have very different personalities but also seem to project a laid-back attitude where you take your job seriously, but not yourself. There's a good thing going with this team, and Sports Radio 810 will be bringing you exclusive coverage you won't find anywhere else in town. If you want to catch the Chiefs-Seahawks preseason game Saturday afternoon, visit Tickets For Less.
Tickets For Less is one of the largest sellers in the country of Kansas City Chiefs, Kansas City Royals, Kansas Speedway and Sprint Center tickets. To order, call 913-685-3322 or visit our website.
---
Subscribe to Tickets For Less!