The Kansas City Chiefs announced on Wednesday that they are planning for reduced seating capacity in relation to the COVID-19 pandemic.
While the final seating capacity and adjustments within Arrowhead Stadium have yet to be determined, the team anticipates operating with limited fan attendance in 2020.
Because of this, the team voided all previously issued tickets for the 2020 season. This included all tickets for season ticket holders and single game purchasers. Once a new plan is in place regarding seating capacity and social distancing within Arrowhead Stadium, the team said it will list tickets for sale on an individual game basis. For more information, CLICK HERE.
If you purchased Chiefs tickets through Tickets For Less, you can rest assured knowing that through the Tickets For Less Fansurance Guarantee, they're covered. The refund process began immediately on all Chiefs tickets, parking and VIP Tailgate orders when the news was announced. All customers will receive a full refund on the card used for their initial purchase. The refund process typically takes between 7 and 10 business days.
If you used an alternate payment method, you can contact the Tickets For Less office at 913-685-3322.
---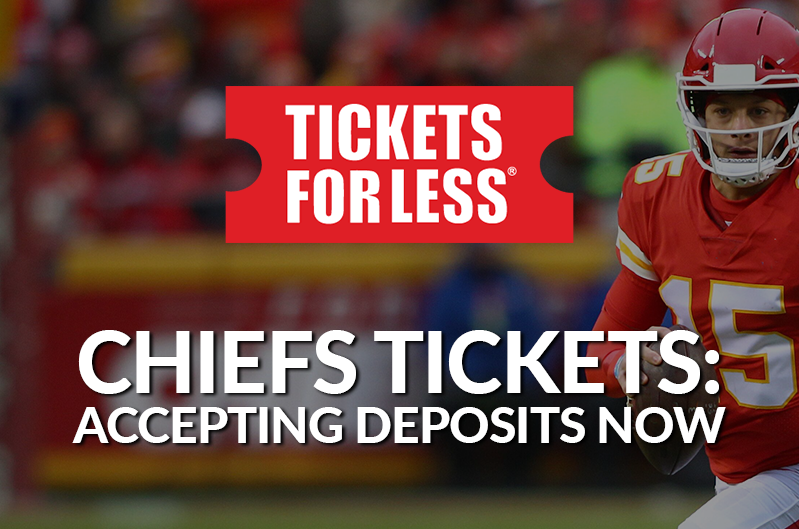 For fans interested in attending Chiefs games this season, Tickets For Less is offering deposits toward tickets today. Here is how it works:
Place a refundable $100 deposit toward tickets today to lock in your game!
Your deposit is fully refundable if the games are canceled, played without fans or if you're unable to purchase in the price range/location you'd like
Your $100 per game deposit gives you the opportunity to purchase multiple tickets for the game(s) of your choice, subject to availability
Earliest deposits receive first priority!
As the season nears our staff will call you to discuss seat locations based on your priority date of deposit
---
CLICK HERE for more information on placing your deposit with Tickets For Less today.