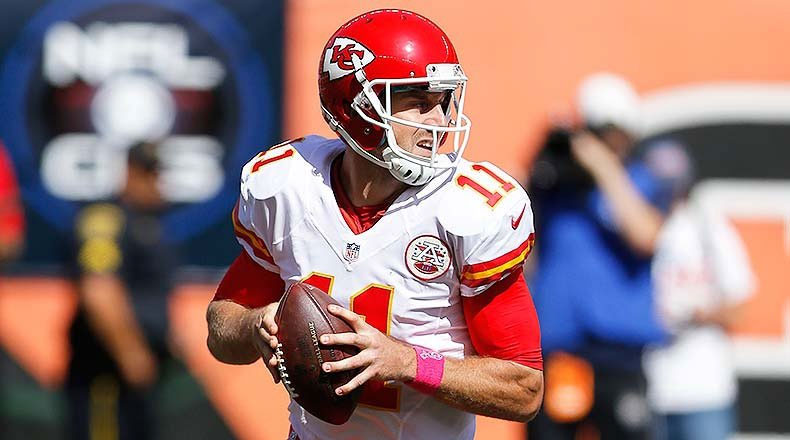 It wasn't all that long ago that Chiefs fans had resigned themselves to the fact that their hometown football team looked to be headed for yet another dreadful season, and one which may have Andy Reid on the hottest by seasons end.
Now, heading into the first weekend in December, Alex Smith and Co., have won 5-straight, and are now sitting in the middle of a wild card race at 6-5 with a game against Oakland looming on Sunday on the West Coast.
What's even more unbelievable is the fact that Reid has seen his team make a complete turnaround without the use of Jamaal Charles, arguable one of the best 4-5 players in the NFL.
It's hard to understand exactly why Kansas City has been significantly better on offense without Charles, but the most obvious reason would appear to be, simply, that Kansas City can't be a one-dimensional team without Charles.
Of course you want your best playmaker to get the ball, but it would seem KC's balance on offense was too heavily weighted towards Charles carrying the load.
Now, several different running backs, including Charcandrick West and Spencer Ware, have carried the ball and been successful behind a solid offensive line, while Alex Smith has spread the ball around the field, but mostly honed in on his top two targets, Jeremy Maclin and Travis Kelcy.
Defensively, Kansas City has been much better at forcing turnovers and putting enough pressure on the opposing quarterback to cause urgency in his throws. Take the Denver game for example.
Peyton Manning ended up 5-for-15 with 35 yards and 3 interceptions before being replaced. Granted he would later divulge an injury to his foot which had likely made an impact on his ability to throw, but nevertheless, the Chiefs played outstanding defense and made timely plays in order to keep the offense from making any type of progression down the field.
If the Chiefs can keep up their play on both sides of the field, a playoff birth is most certainly possible. While they may not be able to catch Denver, particularly after the Broncos handed New England its first lost this past weekend, a win over Oakland and maintaining a gap above the rest of the division will have Andy Reid's squad in a great position for a postseason birth. It's record in the conference also gives Kansas City a tie breaker over Pittsburgh, Houston, and the NY Jets, all of which sit with an identical 6-5 record in the wild card chase.
Kansas City could be staring down the barrel of a 9-7 record, and possible 10-6. Such a record at the end of the year would be one of the bigger accomplishments in franchise history, considering a 1-5 start and losing your best player to a knee injury.
Kansas City will head back to Arrowhead Stadium on Sunday, Dec. 13, for a home game against the San Diego Chargers. After dominating San Diego 33-3 in the first meeting, the Chiefs will look to hold its edge in the playoff race with another division and AFC victory. Tickets for all remaining home games are on sale now at Tickets For Less. With zero hidden service fees, what you see is what you get, unlike some of our competitors. Get your tickets now to see your Kansas City Chiefs make a run at the 2015 playoffs!