Chiefs fans rejoice!
It is officially Chiefs season and that means we can start eat, sleep and live football again. The official start to the season starts September 17th against the Philadelphia Eagles. With football season being here, it also means constant football talk. Stay up-to-date with the Chiefs players, opponents and more with Mitch Holthus on Chiefs Kingdom LIVE on 810 AM Radio.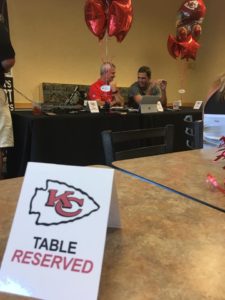 Each week, 3 lucky fans will win the opportunity to go to Chiefs Kingdom LIVE broadcast! You and a plus one could be invited to sit front row at a Tickets For Less reserved table, get autographs from Mitch and the Chiefs special guest of the week as well as the chance to win cool prizes.
Some of our winners had the chance to meet Mitch and Trent Green, have free Chiefs donuts, play some games and get some autographs. You could be next! Sign up now for your chance to win.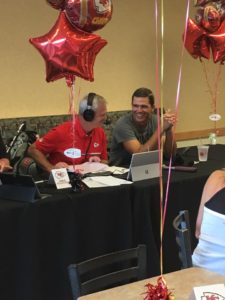 Chiefs Kingdom LIVE schedule:
| | | | |
| --- | --- | --- | --- |
| Preseason Game 3 | Monday, 8/28 | Lenexa | 13400 W. 87th Parkway Lenexa, KS 66215 |
| Preseason Game 4 | Monday, 9/4 | Overland Park #2 | 8900 W. 135th Street Overland Park, KS 66221 |
| Week 1 | Monday 9/11 | Overland Park #1 | 8501 W  95th St. Overland Park, KS 66221 |
| Week 2 | Monday 9/18 | Olathe Store #1 | 14955 W 151st St. Olathe, KS 66062 |
| Week 3 | Monday 9/25 | Independence #1 | 1525 E 23rd St. Independence, MO 64055 |
| Week 4 | Tuesday 10/3 | Gladstone | 7117 N. Prospect Gladstone, MO 64119 |
| Week 5 | Monday 10/9 | Lee's Summit #1 | 301 NE Rice Road Lee's Summit, MO 64086 |
| Week 6 | Monday 10/16 | Olathe #2 | 18101 W. 119th St. Olathe, KS 66061 |
| Week 7 | Monday 10/23 | Independence #2 | 4545 Noland Road Independence, MO 64055 |
| Week 8 | Tuesday 10/31 | Mission | 6655 Martway Mission, KS 66202 |
| Week 9 | Monday 11/6 | Raytown | 9400 E 350 Hwy Raytown, MO 64133 |
| Week 10 | Monday 11/13 | Kansas City #2 | 207 NE Englewood Rd. Kansas City, MO 64118 |
| Week 11 | Monday, 11/20 | Prairie Village | 7620 Stateline Road Prairie Village, KS 66208 |
| Week 12 | Monday 11/27 | Kansas City #1 | 8301 N. St. Clair Ave Kansas City, MO 64151 |
| Week 13 | Monday 12/4 | Blue Springs | 625 W. 40 Highway, Blue Springs, MO 64014 |
| Week 14 | Monday 12/11 | Lawrence #1 | 3504 Clinton Parkway, Lawrence, KS 66047 |
| Week 15 | Monday 12/18 | Kansas City #3 | 5330 NE 64th St Kansas City, MO 64151 |
| Week 16 | Tuesday 12/26 | Liberty | 109 N Blue Jay Drive Liberty, MO 64068 |
| Week 17 | Tuesday, 1/2 | Lee's Summit #2 | 310 SW Ward Road Lee's Summit, MO 64081 |