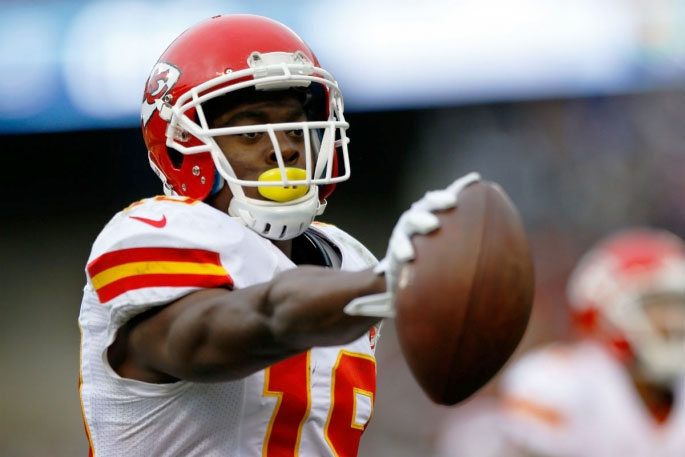 There is no question about it, no other sports town in America has had a better 6-week run than Kansas City. The Royals won a world series, and the Chiefs haven't lost. It's been a great time to live in this city, and Tickets For Less has been the source of a lot of memories for people in KC.
The Chiefs welcome in San Diego this weekend, a team that KC blasted on Nov 22nd 33-3. In fact, the Chiefs have scored 30+ points in each of their last three wins, and it would be 30+ in five consecutive games during this winning streak, had it not been for the field goal fest in Denver, where the Chiefs scored 29. Things are really clicking both offensively and defensively, making Andy Reid's job down the stretch a little easier.
Also making Reid's job a little easier is the remaining schedule, which features four teams with a combined 14-34 record. It is the NFL, and anyone can beat anyone on a given day, but this is setting up perfectly for the Chiefs to hold that first wildcard spot going into the playoffs, and probably going to Indianapolis, again…
San Diego isn't any different than they were a few weeks ago. They might be worse, actually. They did win their third game of the season beating Jacksonville, but they followed that up with a horrible performance at home against Denver and only mustered up 3 points. Motivation for San Diego is at a low we haven't seen in a long time. They have been pretty mediocre with a few 10-win seasons sprinkled in, but their defense is awful. It's probably the worst in the NFL.
The Chargers aren't playing for anything, and the Chiefs shut down Rivers in the last meeting, which as pointed out, is very fresh. Rivers is having a very good year regardless of his team really struggling, so he can keep them in the game. We are to the point in this season where the Chiefs can only beat themselves. I can't see any of these remaining four teams going out and flat out beating the Chiefs. This team is too good right now…
We have seen times in the past 3 years where the Chiefs have beaten themselves against bad teams. Two of those last year kept the Chiefs out of the playoffs. Those games fall on the shoulders of Andy Reid. If he messes this thing up and somehow misses the playoffs, he should be fired. If the Chiefs win all four, they are obviously in. If they win three of the four, they are in the safe zone. If they split the rest of their games, it may get a little tricky, but should still probably make it with the tie-breakers. It would be very, very hard for the Chiefs to not make the playoffs at this point.
Getting the five seed is very important, that would take you on the road to either Indy or Houston in the wildcard round, which is a whole heck of a lot better than going on the road to face one of the "big three" in Denver, Cincinnati, or New England. Who knows if the Chiefs will win out, as winning 10-straight games is hard to do, but it should be expected, and this team shows no signs of letting up.