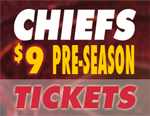 Another NFL season is approaching and this time, the Kansas City Chiefs look to challenge for a division title. Tickets For Less is offering Chiefs preseason tickets as low as $9.
There are two preseason games at Arrowhead Stadium this year. The Chiefs host the Seattle Seahawks Saturday, Aug. 13, to open the preseason and the Green Bay Packers to close the preseason on Thursday, Sept. 1.
Tickets For Less has tickets for sale at these games starting at $9, but tickets in the lower bowl for Chiefs-Seahawks can be purchased for as low as $26. Tickets throughout the stadium are still available for prices between $20 and $40.
Chiefs-Packers tickets are available for anywhere from $9 to $195 and any price in between. Tickets in the lower bowl near midfield are available for around $60. Tickets in the lower bowl end zone range from $26 to around $50.
Last season, the Chiefs played both of these teams. Against the Seahawks last preseason, the Chiefs defeated the Seahawks to open the preseason at Arrowhead Stadium. The Chiefs faced the Packers early in the regular season last year and lost 38-28.
If you are an out-of-market Chiefs fan, Tickets For Less still has you covered. Tickets for the Chiefs' matchup against the newly-relocated Los Angeles Rams Aug. 20 at LA Memorial Coliseum are available starting at $84. The other away preseason game is a matchup between the Chiefs and the Chicago Bears. Tickets to this game are on sale for as low as $27.
Tickets For Less is also offering Chiefs season tickets and single game tickets for the 2016 season.
To order tickets to any of these games, call our sales department at 913-685-3322 or order on our website, ticketsforless.com.
Tickets For Less is an Overland Park, Kans.-based ticket seller. We sell tickets with no hidden fees, so the price you see is the price you pay. Tickets For Less is one of the largest ticket sellers for tickets to the Kansas City Chiefs, Kansas City Royals, Kansas Speedway and Sprint Center events.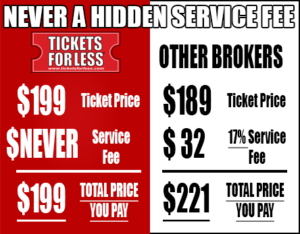 ---
Subscribe to Tickets For Less emails!