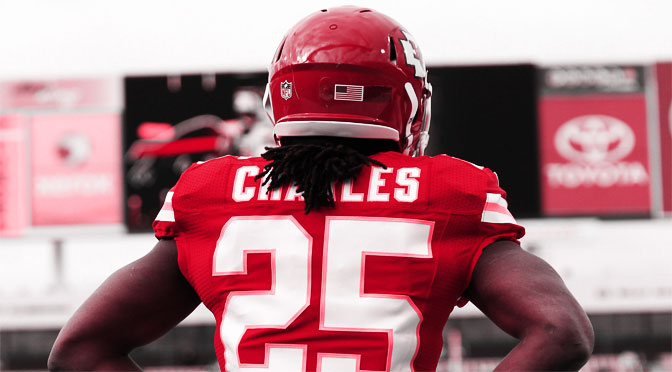 Last Sunday couldn't have gone any worse for the Kansas City Chiefs.
Not only did they blow a lead and drop an important home game against a mediocre Chicago Bears team, but more importantly, they lost star running back Jamaal Charles for the season to a torn ACL.
The injury makes it two torn ACL's for Charles, who isn't getting any younger and compiled plenty of miles on his body already.
Prior to the season, many had picked the Chiefs as a potential playoff team and one capable of winning a division title, now, the Chiefs are a complete unknown and appear to be trending the wrong way at a rapid rate.
With four losses in a row and the division nearly completely lost having dropped a game to Denver already, Andy Reid is taking serious flak, and for good reason.
Reid, like many coaches, doesn't have a clear-cut answer as to how to solve the Chiefs' problems, but doesn't give any broad ideas, either. Instead, he gives mundane, expected answers that amount to no more than, "we all have to do better."
Obviously that would be the case for a team now 1-4. Players, coaches, and everyone involved with the day-to-day activities need to do better. Hearing him say that after each loss only increases the moans and groans from fans that were expecting a much different start to the season.
Still, five games in can still mean the season is salvageable. It'll all start with QB Alex Smith, who has received his fare share of criticism as well.
Smith has proven to this point that he is what he is; a player which refuses to take risks and potentially make mistakes by throwing the ball into tight spots, instead opting to tuck and run, even when the pocket is still providing protection.
The simple fact that he's been sacked as much as he has, and knowing full well that his offensive line isn't the best in the league obviously has him scared and unable to hang in and take hits in order to get the ball down field.
The more receivers continue to run down field wide open without the ball coming their way, the more this team is going to struggle to become anything before it's too late.
On the road at Minnesota, a team which only gives up three yards per carry to opponents this season, Kansas City and Alex Smith absolutely must get the passing game going. It's been a positive to see Jeremy Maclin come away with 100+ yards receiving, but without touchdowns attached to his stat line, it doesn't do much good.
Minnesota isn't a complete team, either, so a win on the road may just be what the doctor ordered.
The Chiefs will return home on Sunday, October 25 to take on the Pittsburgh Steelers. Tickets For Less has a great selection of tickets and parking passes available. With zero hidden service fees, what you see is what you get, unlike other sites which tack on fees to each purchase. Don't miss your chance to support your Kansas City Chiefs at Arrowhead Stadium. Visit Tickets For Less, today, and purchase your seats inside the best home-field advantage in football. Go Chiefs!