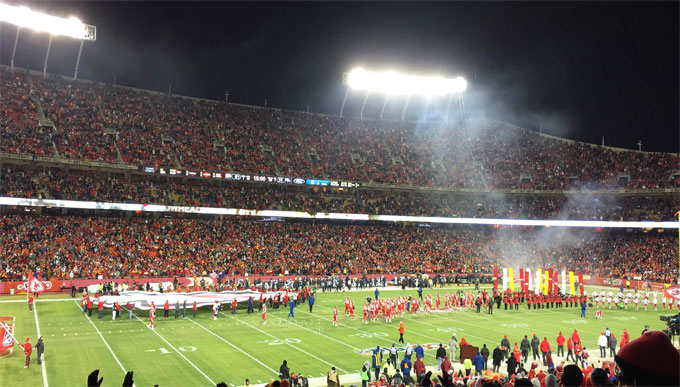 I've never been big on NFL preseason games. They're a money grab for the owners.  Fans pay regular season prices to watch many of the players who won't make the team. It's the ultimate pricing ripoff in professional sports. We're gluttons for punishment because many of us continue to shell out the dough for these glorified scrimmages.
The Chiefs preseason opener didn't reveal any surprises. The good news is there weren't any significant injuries.
Despite blowing a double-digit halftime lead, I saw some good things in their 17-16 loss to Seattle. I like the way the first team moved the ball right out of the gate. When you start drives on the opponent's side of the 50 your chances greatly improve of putting points on the board. The Chiefs are picking up where they left off back in February with good starting field position.
I like this offensive line. It's damn good. It's the biggest improvement on that side of the ball. Those big boys in the trenches can run, block and provide a nice wall of protection for the quarterback when he goes on top.
Alex Smith doesn't spend much time in the pocket. He's not very good about sliding around and buying time back there. He likes to step up and over the pressure. The Chiefs plan is to eliminate some of those tuck-and-run plays and get the ball to a much-improved receiver core. They've got guys now who can actually get separation. The first team offense had no problem moving the ball against the Seahawks first-teamers. The Chiefs have gotten better at EVERY position offensively.
I think the media made too much of a deal out of the third-string QB competition. Who cares? Tyler Bray and Aaron Murray can only be viewed as providing extra arms during training camp. There's no future for either in KC.
In this column a couple of weeks ago, I wrote about my concern on the defensive side of the ball. There are too many key players injured or not playing right now. When you're without multiple Pro Bowlers, there's a problem. I wrote at length recently about Dee Ford, who hasn't done squat in his first two years. He didn't have to because the Chiefs had Justin Houston and Tamba Hali. Things have changed. No one at Arrowhead is certain about Houston's status. Tamba is injury prone and growing old fast! Ford must get better and it must happen now. His growing pains need to be over. This guy is a former No. 1 pick and the Chiefs can't afford to hand-feed him any longer. He wasn't very good in the Seattle game.
I came away from Saturday's game very impressed with the Chiefs' young secondary. I've become a big fan of Marcus Peters. He's going to have his moments but I like the way he competes and carries himself. The Chiefs have 11 jobs on the line among cornerbacks and safeties. With the injuries on defense, the secondary now plays an even more vital role in this defense.
We never have to sweat the kicking game. How about Cairo Santos? He popped one from 58 yards and made it look routine in splitting the uprights.
It's early, but the Chiefs look like a pretty darn good football team.
Tickets For Less is one of the largest sellers in the country of Kansas City Chiefs, Kansas City Royals, Kansas Speedway and Sprint Center tickets. To order, call 913-685-3322 or visit our website.
---
Subscribe to Tickets For Less emails!