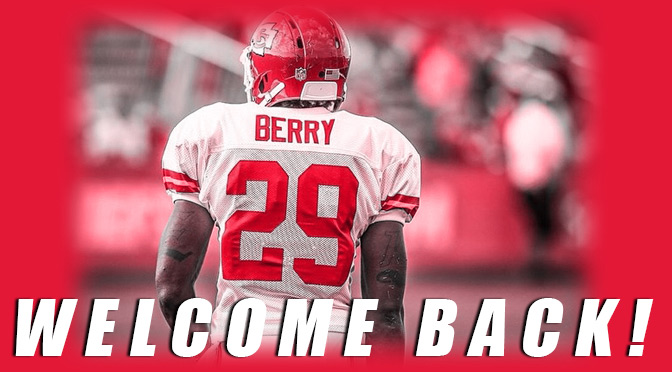 As if there wasn't enough to celebrate in Kansas City, Chiefs fans received extra special news, Tuesday, when the announcement was made late in the evening that safety Eric Berry was cleared by doctors to participate in training camp after battling and conquering Hodgkins Lymphoma.
Berry, who was diagnosed last season after a lump in his chest was discovered early in the season, has remained relatively quiet throughout the treatment process, surprised essentially everyone who follows the Chiefs, with the announcement.
In many cases, some questioned whether Berry would make it back within multiple seasons, if ever. Instead, Berry comes back ready to participate in incredible shape, actually weighing a pound more than he did prior to his diagnosis.
A fan favorite, Berry held a 29-minute press conference in which he opened up with great personal detail about his fight, choosing not to insert a PICC-line (a common internal IV used for chemotherapy treatment), instead opting to have the IV inserted in his arm for every visit to the hospital.
Anyone who has had blood drawn or received an IV understands the pain and the damage that can be done with this method, and to think about the number of times Berry has dealt with it over the past six months, one can only imagine the toll it took on him.
Berry spoke about his struggles with working out–the reason why he opted to avoid a PICC-line–knowing he couldn't do nearly as much as he was accustomed to, and breaking down following his workouts, most of the time because he was able to get through it.
The personal challenge Berry has faced, and now to be cleared to return to football, has changed him forever. Andy Reid and the Chiefs don't yet know what he will be able to do, not do, or add to the team until he can take his reps and progress at whatever rate he can, but Berry enters camp with the mindset that he is going to start in the opener.
Whether he returns as the dynamic pro-bowler he was prior to his diagnosis in unknown, but players, coaches, and fans are celebrating his return, and will continue to do so.
The week hasn't gone without its share of negative news out of training camp, however, as it was announced starting defense lineman Dontari Poe is out indefinitely with an injured back which will require surgery.
For any athlete, back injuries are among the toughest to deal with, but for a 300-plus pound lineman, slipped discs in the back are increasingly more difficult to address, particularly because of the leverage needed to push against opposing offensive lineman.
Poe's return is uncertain, but the initial opinion of those around the organization is that he will likely be out for at least the first several weeks of the year, with the outside chance that he could be ready for the start of the regular season.
Chiefs fan! Don't miss your chance to see your hometown team take the field at Arrowhead Stadium, August 21, against the Seattle Seahawks. Exhibition season is around the corner and one of the NFC's best comes to Kansas City to take on the Chiefs. Head to Tickets For Less, today, and get your seats up front and personal for a clash between two of the more talented teams in the NFL.