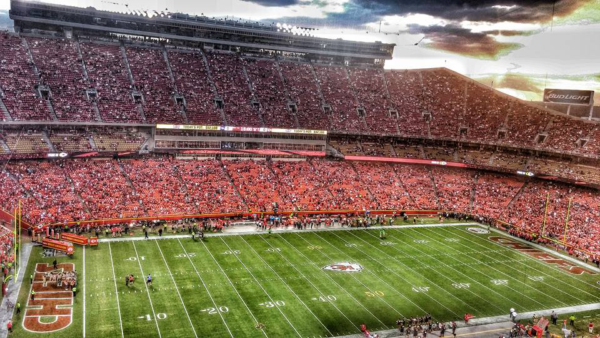 As the Chiefs begin their fourth season under the John Dorsey/Andy Reid regime, I have just a few thoughts as training camp heats up in St. Joe.
I can't help from making a comparison between Dorsey and his predecessor, Carl Peterson. They both take liberty in spending the Hunt Family's money – big chunks of it! More on that in a minute. Peterson was an easy target to criticize during his 20-year reign of being in charge of nearly everything at Arrowhead. He was pompous and arrogant. Peterson endeared himself to the fan base and was referred to by many in the media as King Carl. He loved power and notoriety. Peterson loaded up on titles. He was President, CEO, and General Manager. He had this insatiable appetite to be in charge. To his credit, Peterson and Marty Schottenheimer made football in KC relevant again.
Dorsey appears to be the extreme opposite of Peterson when it comes to vying for attention. He portrays himself as being a kind and humble type of man. The bottom line – victories take care of everything and how these people are perceived by their fan base. Dorsey gets high marks for the Chiefs performance under Reid. They've won 31 games in the first 3 seasons.
Still Dorsey's decision to give Eric Fisher a 4-year extension is baffling. Good for Fisher but he doesn't deserve it. Fisher had two years remaining on his original deal so what's the hurry to add $40 million dollars of guarantees? Fisher's new deal amounts to about $11 million a year over the next 6 years. That's more than double what Fisher was paid per year in his first 3 years.
Pro Football Focus has Fisher ranked somewhere in the middle of the pack among tackles in the league. The team is making a big deal that they have all 5 of its projected starters on the offensive line under contract for a while. No one can be happier than the quarterback. Alex Smith ran for nearly 450 yards last season. He averaged 8 yards a scramble behind that messed up O-line.
On the other side of the ball, there are issues. No Justin Houston, no Tamba Hali at the present time and no Eric Berry. This is pure speculation on my part, but after Fisher's big payday it would appear Berry's time in a Chiefs uniform is coming to an end. He's not expected to report to camp until a week or so before the season opener.
All the optimism flowing out of St. Joe is somewhat tempered by other issues involving key players on the team. Then of course, the money grab. No doubt Eric Berry has grown tired of waiting in line for his and has decided on taking an extended vacation. Good for him!
We will be in St. Joe all month long leading up to week one against the Chargers at Arrowhead. Ticket options are available at ticketsforless.com.
Tickets For Less is one of the biggest sellers in the country of Kansas City Chiefs, Kansas City Royals, Kansas Speedway and Sprint Center tickets. To order, call 877-685-3322 or visit our website.
---
Subscribe to Tickets For Less emails!