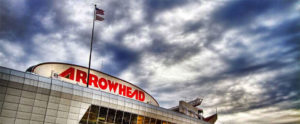 The Chiefs are coming off an 11-5 season and most of last year's pieces are firmly in place. So what can we expect from 2016? Follow below as we go on the fool's errand of attempting to predict the Chiefs record game by game.
Right now Vegas has the Chiefs at 9.5 wins for the season when looking to bet the over/under. Considering the Chiefs have hit 9 wins the last 3 seasons and are playing only 5 games against last year's playoff teams, we think the over is a safe bet. But how do the Red and Gold get there?
Sept 11th vs. San Diego – WIN
We are marking this as win, but we do think it'll be close. Andy Reid Chiefs teams have laid stinkers before in home openers, but the Chargers are coming off an awful season and with a dumpster fire worthy training camp highlighted by front office shenanigans with still unsigned first round draft pick Joey Bosa.
Sept 18th @ Houston – LOSS
A playoff rematch with a JJ Watt looking for revenge. We are hoping the line protects Alex Smith but we'd bet the Texans have had this date marked for quite some time. Plus Brock Osweiler has to be better than Brian Hoyer.
Sept 25th vs. New York (Jets) – WIN
Dangerous match up for the Chiefs as plus wide receiver corps comes into Arrowhead, but we think the Chiefs have enough upfront to control the line of scrimmage and keep the Jets one dimensional.
Oct 2nd @ Pittsburgh – LOSS
We really wish the NFL would have kept Le'Veon Bells suspension at 4 games. Bell will be back this game and the potent Steelers' offense likely hits full stride making one of the hardest places in the NFL to win even harder.
Oct 16th @ Oakland – WIN
Playing an up and coming Raiders team on the road is a tough task but so is playing Andy Reid coming off the bye. Chiefs coaching wins this one with a great game plan.
Oct 23rd vs. New Orleans – WIN
Two top offenses come in but this win comes squarely on the shoulders of the Chiefs defense who will find a way to get one more stop than its counterpart.
Oct 30th @ Indianapolis – WIN
First trip back to Indy since the collapse. There are enough guys on this team from 2014 to take that just personally enough to make the result a different one.
November 6th vs. Jacksonville – LOSS
Trap game! Jacksonville will be a better team than normal and every year one wide receiver becomes a game breaker against the Chiefs. Call it a gut feeling but make sure you start Allen Robinson in fantasy this week.
November 13th @ Carolina – LOSS
Carolina won't be 15-1 this season but they aren't losing many, especially not at home. Chiefs will take their first and only back to back losses in the year.
November 20th vs. Tampa Bay – WIN
Welcome home Chiefs. A rowdy crowd at Arrowhead gets the team right and the Chiefs roll big.
November 27th @ Denver – LOSS
We're extra thankful Peyton Manning is gone this holiday week, but Von Miller still roams the Denver sideline and will keep the Chiefs from lighting up the scoreboard.
December 4th @ Atlanta – WIN
Atlanta normally fades late in seasons and the team that rattled off last year's longest win streak will be ready to start another one.
December 11th vs. Oakland – WIN
As the cold settles into Kansas City the Chiefs get hot putting together a comprehensive performance against their division rival.
December 18th vs. Tennessee – WIN
Tennessee will be playing for a draft pick at this point and Kansas City will be in the thick of the playoff conversation. Do the math.
December 25th vs. Denver – WIN
Another prime time game against Denver this time with the division on the line. Chiefs won't let this one slip through their fingers.
Jan 1st @ San Diego – LOSS
With a playoff spot already wrapped up the Chiefs rest players and lose a close one on the west coast.
Tallying it all up that leaves the Chiefs at 10-6, but this year that's enough to not only get in the playoffs but to win the AFC West and bring a home playoff game to Kansas City. When that happens Tickets For Less will have your playoff seats, until then get your regular season tickets for all Chiefs game here.