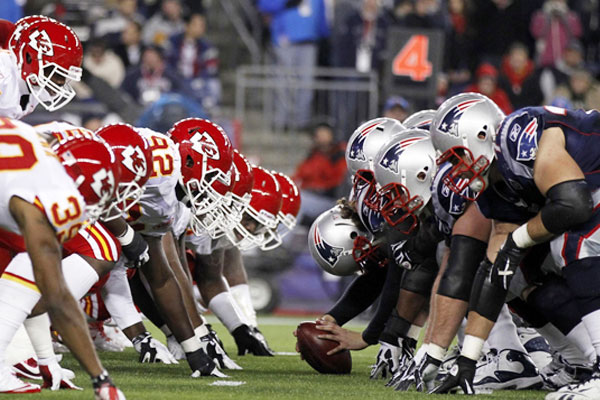 Bill Belichick and Andy Reid are friends, but this is the NFL and its win at all costs. That's a phrase that Belichick is very familiar with, given his past issues and controversies with the Patriots. Saturday is a matchup of the current two winningest coaches in the NFL. Andy Reid has had issues going up against Belichick before, so Reid will be prepared for the worst in Foxboro, and will have a backup plan.
A lot of people think that the Patriots are in the Chiefs head with all this stuff. It's a legitimate concern! If Belichick and Brady got off the hook for what they pulled last year, imagine all the little things they may be able to get away with on Saturday in their home stadium. The Patriots are a very good team, with a now storied-franchise, but things are different in Foxboro, just ask Mike Tomlin, who had a week one rant about this.
The problem with it is, they are very good, and don't need to bug headsets or deflate footballs to win. So when this stuff happens, and New England wins by 3 scores, it comes across as the Colts are making excuses, or Mike Tomlin is making excuses. These little things add to the frustration of losing teams because Tom Brady and Belichick are proven winners. They will beat the daylights out of you, and cheat while doing it.
With all that out of the way, Kansas City has a very good football team. This is the best team to go into Foxboro in the playoffs since the 2012 Ravens who had a very good, veteran defense, and Ray Rice was in his prime. Baltimore's first play from scrimmage that day was a long touchdown run from Rice, and they controlled the game from there. If the Chiefs can score first, it will put a lot of pressure on Brady who will be facing the best defense he has faced since that 2012 Ravens team.
Jeremy Maclin did not practice yesterday, this is probably an effort to save as much of his ankle and energy for Saturday. The Chiefs need him, more so than they would next week in Denver or at home against Pittsburgh. Andy Reid knows this and is playing his cards close to his chest with Maclin, he will be questionable going into New England, and will probably play.
There is no doubt about it, THIS game is the AFC Championship game. Pittsburgh's two best players are questionable and beat up, while Denver is relying on Peyton Manning, and we know what happened the last time he faced Kansas City. The Chiefs and Pats are the two best teams in the AFC, and the winner will go to the Super Bowl.
There's a lot going on with Missouri Basketball right now, be sure to tune into Sports Radio 810 WHB throughout the rest of the week for more on the story, and leading up to kickoff in Foxboro, 3:30 on Saturday.