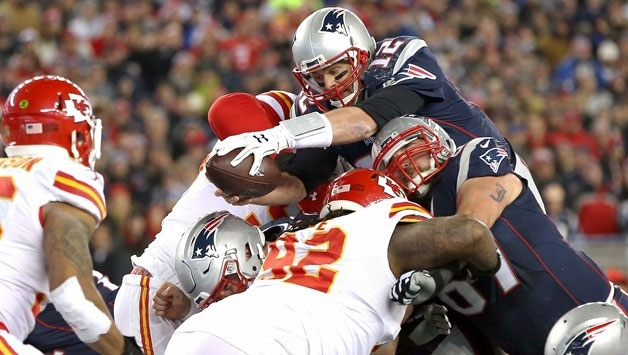 Here are some final thoughts on the Chiefs season ending loss at New England. I promise not to regurgitate the disastrous clock management issues of our head coach. It becomes nauseous every time it's brought up. For three months there was no finger pointing, as the team was reeling off 11 consecutive wins. That all changed in about 3 hours, the time it took to play the division postseason match against the Patriots last Saturday at Foxboro. There weren't enough fingers on both hands clamped together to atone for the loss. Players won't point fingers but we all know where the blame lies.
The Chiefs defense, the best part of the team, was outplayed much of the game. Five pro bowlers were rendered pretty much helpless by the best quarterback in the history of the game. There's no shame being shown up by Tom Brady, but the way he carved up the secondary shows there's still a lot of juice left in this 38 year QB.
The brilliant football minds of this sport have been pontificating to anyone who will listen that you must have balance to win in the NFL. Hogwash! Not when you have Brady. He engineered a 27 point performance with no running game. Absolutely nothing. Pats had a measly 38 yards rushing. That's it! They didn't even try to run the ball. The Chiefs, who were trying to blitz from every angle, did not get a sack of Brady.
Giving Rob Gronkowski and Julian Edelman a 7-8 yard cushion every time they lined up was a fatal mistake by defensive coordinator, Bob Sutton. The Chiefs were repeatedly burned in coverage. The Patriots were ripping off huge chunks of yardage with ease.
Three factors became very obvious why the Chiefs never had the lead. New England clearly has the better team, the better quarterback and the better head coach. Playoff time is money time.
Alex Smith had a decent game, but he's on the hook after the Chiefs had four consecutive trips in New England territory and came away with only one touchdown in those drives. That's unacceptable in playoff football. The QB still needs some weapons. Jeremy Maclin played on basically one leg. He was in on only 34 of 89 snaps. He's a warrior but the Chiefs desperately need to get him some help. As much as you might hate them, the Patriots continually find a way to win.
The Patriots have one former first round draft pick on offense with their current roster. Only one! He's running back Steven Jackson who just joined the team last month. This drives home a reality check that the Chiefs are so close but yet so far away. They're about $30 million under the salary cap but have crucial decisions to make regarding some players. Derrick Johnson, Tamba Hali, Sean Smith, Eric Berry and Jaye Howard are among those who become free agents if not signed by March 15th. It would appear Sean Smith and Tamba Hali won't be back. Not sure about Derrick Johnson. The Chiefs need to resign Jaye Howard and Eric Berry, who was the best story in football this year. I just hope Berry doesn't settle for a hometown discount.
12 wins is a major accomplishment. Winning a playoff game was monumental for this team. The next little nugget out there is going to the playoffs in back-to-back years. It hasn't happened since 1997. This one appears to be very doable.