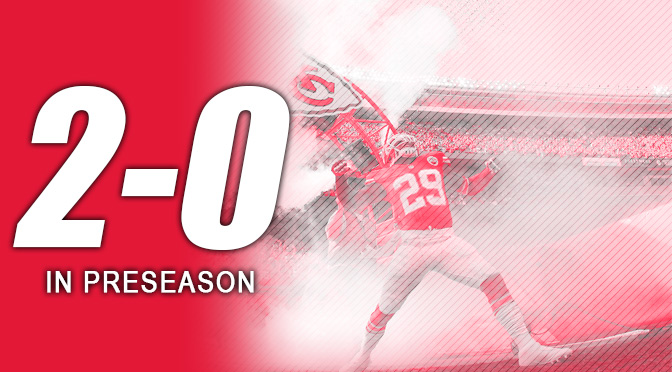 So far the Kansas City Chiefs have put together two vastly different performances, yet have come away with two wins.
In its first preseason game, the Chiefs first-team offense was dreadful in the limited time they were on the field, but the second-team took over, led by Chase Daniel at the helm, and poured it on the Arizona Cardinals, coming away with a 34-19 win.
In its second game against the Seattle Seahawks, the Chiefs narrowly escaped with a 14-13 victory.
The one common theme was the lack of overall production from the starting offense, which is becoming more of a concern. With game 3 coming up and the starters likely to play the most snaps of any of the four games, one would expect to see Alex Smith, Jamaal Charles and Co., spread the ball around and see the offense turn up to a different level.
On a positive note, Smith connected with newly acquired Jeremy Maclin for a touchdown. Not only was it meaningful for Smith to throw a touchdown pass to a wide receiver, but for Maclin, the savior of the receiving core, was a sight for sore eyes for fans.
Defensively, Kansas City did a stellar job of holding off Seattle's Russell Wilson and his offense, making it a defensive battle throughout the game. The Hawks were without Marshawn Lynch, which makes a big difference, but still, the Chiefs were engaged defensively and put pressure on Wilson to make plays.
The biggest concern for KC at this point is the offensive line play. Between injuries and guys shuffling in and out of spots, the inconsistency of the line has red flags up in terms of their ability to protect Alex Smith and allow the Chiefs to develop any type of down-field passing attack.
Andy Reid and his offense also need to get rookie receiver Chris Conley involved. His performance throughout camp has been promising, and to relieve the pressure from Maclin and give the Chiefs another weapon in the passing game, Conley needs a chance to show what he can do.
The Chiefs will take on the Tennessee Titans tonight, 8/28, at 7:00 pm at Arrowhead Stadium. Tickets are available for Friday's game for just $10. Tickets to all games for the upcoming season are available now at Tickets For Less. Visit the website today to purchase great seats at a tremendous value and get out to Arrowhead Stadium to cheer on your Kansas City Chiefs!