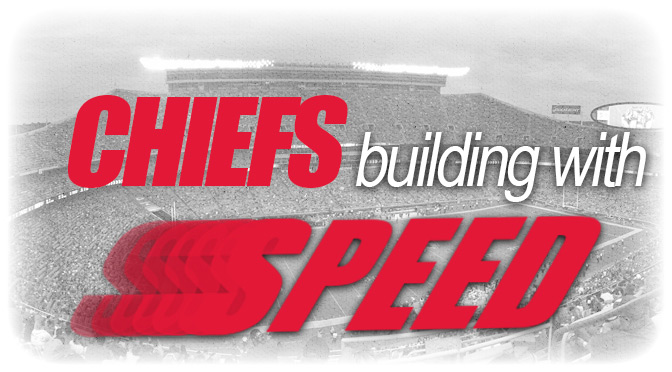 Music to the ears of Chiefs fans, right? "faster offense," has been something Andy Reid and GM John Dorsey have talked about over the course of training camp.
With the addition of Jeremy Maclin, a speedster on the outside and a player which can take underneath passes and turn them into big plays, replaced the departed Dwayne Bowe.
Although Bowe was a crowd favorite and a big target, his lack of speed and inconsistency in catching the ball and creating separation from defenders made it tough for Alex Smith and the offense to truly utilize him.
In fact, the Chiefs have essentially relied on Jamaal Charles and Alex Smith to make plays on the offensive end, often scoring 17-20 points and clinging on by relying on a strong defense to protect a marginal lead.
Now, with Maclin, De'Anthony Thomas, drafted WR Chris Conley, Albert Wilson, and others, Kansas City looks to have bolstered its offensive arsenal in order to add more points to the scoreboard.
More importantly, additional offensive weapons will help protect not only Smith from having to tuck and run, but protect Charles from carrying and/or catching the ball on every play. Of course the ball is in his hands is best, but a high number of carries and receptions comes with a price; the physical toll of the NFL.
Andy Reid will likely spread things out this year, using De'Anthony Thomas in the backfield and in the slot much more this season. Promising receiver Chris Conley from Georgia has been impressive in camp and has the Chiefs hopeful for a bright and productive future.
In its first preseason, a 34-19 win over Arizona, the first-team offensive didn't look particularly effective. In fact, Alex Smith threw an interception, something he is known to avoid maybe more-so than any other QB in the league.
The key to all of this, however, will be the offensive line and its health. Alex Smith recently told the media he has, "all the faith in the world," in his line. Granted you wouldn't expect him to say anything to the contrary, but Smith believing in his line and having the trust that they will protect him and allow him the time to make his reads down the field will directly affect the offenses ability to speed up its tempo and get in the end zone at a higher rate.
Many feel as though KC has the chance to make some noise in the AFC this season, and with the Denver Broncos, compete for a division title.
With the window still open with a roster of talented veterans and a mix of young talents, Kansas City has the chance to compete for an AFC title.
Tickets are on sale now at Tickets For Less, your place for amazing prices and no hidden service fees for Chiefs tickets at Arrowhead Stadium. Head to Tickets For Less and purchase your seats and don't miss out on any of the 2015 action!
Also, don't forget to register for your chance to win 1 of 5 Tickets For Less Chiefs VIP Experience packages. The giveaway includes 5 chances to win for selected games and includes 2 FOX VIP tailgate passes, 2 tickets to the game, and 2 VIP field passes for all the pre-game action. Contest details can be found at Ticketsforless.com.