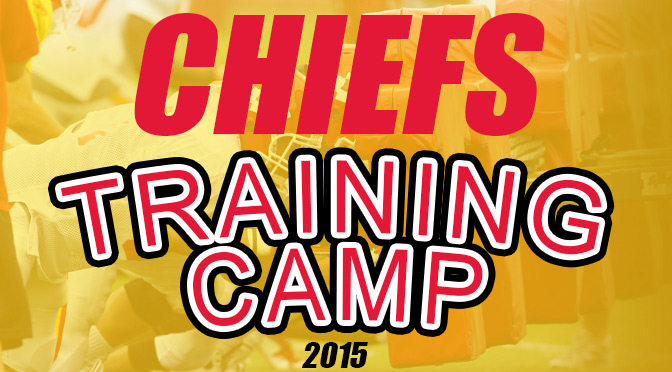 After a Monday practice which was forced to move indoors because of lightning, fans were back to watch their Chiefs take the field in pads on Tuesday–the second day in a row the team has gone with pads.
Reports from Monday's inside practice were glowing for rookie Marcus Peters (Chiefs 1st overall pick), as he intercepted three passes from the corner position.
There has been talk as to how the Chiefs would use Peters in the upcoming season, keeping him strictly at outside at corner, or using him in nickel and/or dime packages.
Monday, Peters stayed almost exclusively on the outside and came away with a tremendous day of practice.
Tuesday, the rookie out of Washington was at it again, jumping a route and nearly picking off Alex Smith for what would have been a pick-six. Instead, he settled for the pass-defended, which Andy Reid will take any day of the week.
The highlights of the day, however, come from two stars, Derrick Johnson and Jamaal Charles.
Charles looked good is pass protection, picking up pass rushers to help protect Alex Smith, while Derrick Johnson jumped in front of a receiver to pick a pass one-handed, electrifying a crowd looking forward to seeing one of the defensive favorites for Kansas City, get back to full strength after suffering a torn achilles last season. On a separate play, Johnson met Charles in the backfield for a tackle-for-loss.
Offensively, Alex Smith praised newcomer Jeremy Maclin after the dynamic wideout made two impressive catches in the middle of the field, one of which coming in heavy traffic. Smith would go on to say Maclin showed he is willing to catch a ball no matter what is happening around, something the Chiefs have missed.
In all, the Chiefs have shown to have a roster full of playmakers and are still considered by many to be a playoff-contending team by the time the season arrives.
The question will remain as to whether or not Alex Smith and the passing game can have any influence on the scoreboard.
The Chiefs haven't thrown a touchdown pass in two seasons, something which seems almost impossible at the NFL level, and will need to show they can get the ball downfield and in the end zone in order to become the type of team capable of making a run at the Super Bowl.
As Jamaal Charles said this week, he is, in many ways, like the NBA's LeBron James in that opposing teams have to gameplay strictly for him because he carries so much of the load on offense for the Chiefs.
It wasn't so much as a comparison to the talent of James, but more making a point–a very valid point–that his team needs to figure out where to get more offense so Charles doesn't have to be the center of attention on every play. If the Andy Reid can discover more weapons, namely Maclin, the Cheifs' offensive becomes much harder to plan for.
August 15th marks the first preseason game for Kansas City, as they take on the Arizona Cardinals. Don't miss out on your chance to catch every Chiefs game, home and away by visiting Tickets For Less to find the best prices on great seats at the biggest home field advantage in the NFL, Arrowhead Stadium.