The Kansas City Chiefs and quarterback Patrick Mahomes have reached an agreement on a record-breaking contract extension. The agreement, which ties Mahomes to Kansas City through the 2031 season, reportedly makes him the first half-billion dollar athlete. FULL STORY
---
Knowing this is the biggest news in Kansas City history, Tickets For Less is giving fans the chance to win a signed full-size Patrick Mahomes helmet! ENTER TO WIN HERE!
---
Plus, it looks like #15 isn't going out of style for a looooong time. Pick up your Mahomes gear HERE.
---
Mahomes, who was drafted by the Chiefs with the No. 10 overall pick in 2017, has quickly become the most polarizing athlete in the world. After preparing behind Alex Smith in his first season, Mahomes won MVP in 2018. He followed that season with a Super Bowl title and Super Bowl MVP in 2019. His leadership on and off the field, coupled with his talent, poise and other intangibles have gotten him to where he is today: the owner of the richest contract in sports history.
Perhaps the most impressive accomplishment for Mahomes isn't the MVP or championship that he's earned in his first three seasons, but instead the reaction around the league after news broke Monday of his record-breaking contract. You'd be hard-pressed to find any negative reaction among players. From teammates to opponents to the brightest stars in other sports and even media members, Mahomes has been praised by all as deserving every penny. READ MORE
---
Mahomes News Breaks the Internet
News of the extension came out Monday afternoon, with the first known source being former offensive lineman for Kansas City, Tim Grunhard, posting the following tweet: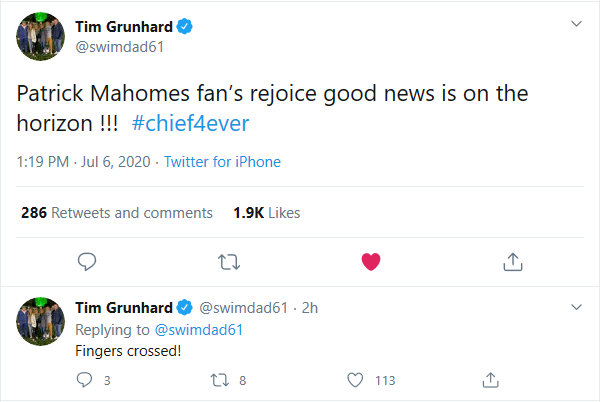 A Kansas City liquor store employee also posted to Twitter that she thought the deal may be done Monday afternoon. She posted that a Chiefs employee had told her a big deal was coming, but that it wasn't Chris Jones. She initially deleted her tweet to keep from outing the employee, but everything worked out.
ESPN's Adam Schefter reported not long after that Mahomes and the Chiefs were finalizing a 10-year extension. That number was believed to be $450 million, according to Schefter: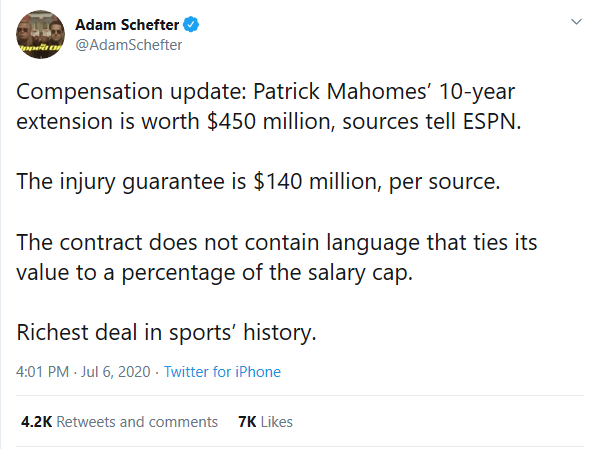 Not long after, Mahomes' agent posted a tweet explaining the numbers of the contract. The extension was for $450 million, but with the money from his initial two year contract and other bonuses, the total came to $503 million!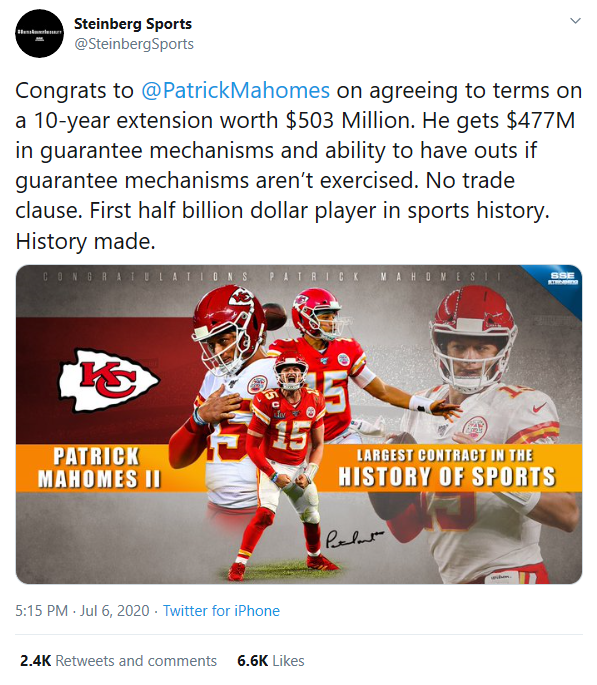 ---
Fun Mahomes Facts
Back in 2017 before all of the touchdowns, no-look passes and major awards, Patrick Mahomes signed one of his first endorsement deals of his young career with Tickets For Less. The partnership came about just after the NFL Draft in 2017. It gave Tickets For Less one of the best ambassadors of all time. In the deal, Mahomes displayed his true character by agreeing to support the Team Little Owl Foundation, which helps support childhood cancer research.
Patrick Mahomes was a multi-sport athlete in high school, starring in baseball, basketball and football. Mahomes was drafted in the 37th round of the 2014 baseball draft by the Detroit Tigers.
Patrick Mahomes wore #5 in college at Texas Tech, but chose to wear #15 with the Chiefs. He took his college number (5) and added the number of his pick in the draft (10) to make 15.
---
SIGN UP HERE for a chance to win a signed Patrick Mahomes helmet!